Coke Studio Season 5 Mp3 Songs
You can download Coke Studio Season 6 - Mix High Quality Mp3 Songs. Coke Studio Season 6 was released by Various Artist in year 2013. There are about 6 mp3 songs in album Coke Studio Seaon 6.
Coke Studio Season 6 Album Overview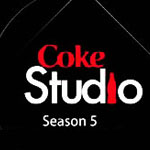 Album:
Singer:

Atif Asalam, Raha Fateh Ali Khan, Zeb N Haniya, Sanam Marvi, Saeen Zahoor, Alamgir, Abrar-ul-Haq, Ali Azmat, Zoe Viccaji, Rostam Mir Lashari, Rizwan Muazzam, Zara Madani, Rustam Fateh Ali, Fariha Pervaiz, Ayesha Omer, Asad Abbas

Year:
Track Format:
Total Tracks:
Overview:

As the Coke Studio Season 6 is a most awaited television music show in Pakistan. The show is being featuring popular singers including Atif Aslam, Zeb & Haniya, Ali Azmat, Sanam Marvi and Saieen Zahoor. Coke Studio Season 6 marked the first time for foreign artists to be featured on the show with the likes of Turkish singer Sumru Agiryürüyen and Sweden based Balochi singer Rostam Mirlashari.
Coke Studio Season 6 Episode 1 Songs List in Mp3 Format
Coke Studio Season 6 Episode 2 Songs List in Mp3 Format
Coke Studio Season 6 Episode 3 Songs List in Mp3 Format
Coke Studio Season 6 Episode 4 Songs List in Mp3 Format
Coke Studio Season 6 Episode 5 Songs List in Mp3 Format
Coke Studio Season 6 Related Links