Paisa Nasha Pyaar Mp3 Songs
You can download Paisa Nasha Pyaar - Bohemia high quality mp3 songs. Album Paisa Nasha Pyaar was released by Bohemia in year 2006. There are about 19 mp3 songs in album Paisa Nasha Pyaar.
Paisa Nasha Pyaar Album Overview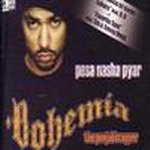 Album:
Band / Artist:
Year:
Songs Format:
Total Songs:
Paisa Nasha Pyaar Songs List in Mp3 Format
Click on Songs to download them in high quality Mp3
Paisa Nasha Pyaar All Songs in compressed (.rar) single file
You Need WinRar to Unzip these files. If you do not have WinRar then click here to download it
Notice: Our Site or Web Servers only have the Paisa Nasha Pyaar Songs information. We don't host any file. The users provide file source that are hosted on free hosts. If you think that this file information breach your Copyrights then you can request for a removal for these information. Send a Proper DMCA Notice from our contact us page.